1. Bridesmaids dresses came in!!!
I am so excited about these dresses (almost as excited about my own dress. ...Ok not quite. But excitement level is through the roof)! I have always loved the look of silk chiffon BM dresses. And when I hear silk chiffon, 2 designers pop into my head.
I did some online scouring trying to find a company that could sell these designers at a lower price than the local bridal boutiques. I found one,
Toast Bridal
, that didn't sound sketchy, didn't ship from China, and carried my beloved Bari Jay dresses for more than $50 less than local bridal stores.
The reviews were hit and miss, but many of the bad reviews came from those who'd shopped in store. I decided to have some faith, take the risk, and order all 5 dresses together (1. so they would all be cut from the same dye lot and 2. so we would only have to pay 1 shipping price)
So glad I went with Toast Bridal. The dresses are PERFECT!! And shipped 3 weeks before I expected.
No girl is the same shape (duh), and some styles look better on particular bodies, so each of my girls are in a different dress that accentuates their best features and compliments each gal so beautifully! My bridesmaids are all already so pretty ;-)
Y'all. I am going to have the best dressed bridal party. Ever.
2. Bouts & Flowers
Very ready to tackle my next DIY project. The groomsmen bouts.
When thinking of the guys' flowers, I thought about how much I love the wedding color (google bari jay misty blue and you'll see what I mean) and knew I wanted to closely match this color with the boutonnieres. Then I thought...if I want to match the bridesmaids dresses, USE the bridesmaids dresses!
The extra material cut from the bottom of each of the bridesmaid dress will be cut and used to make fabric flowers for the groomsmen's bouts...kinda like this: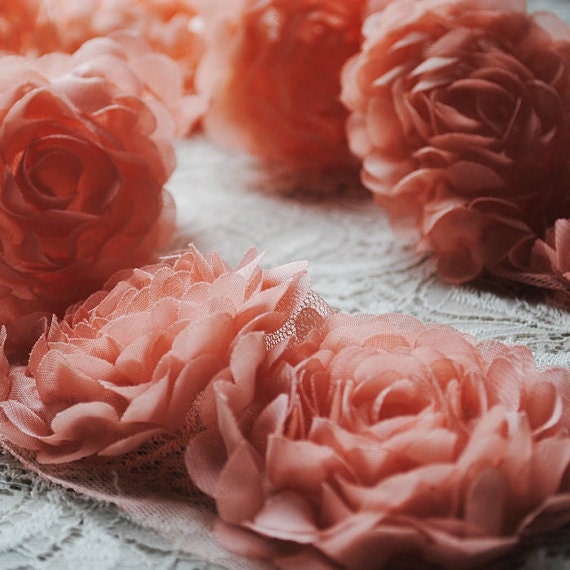 But with a few little added details like a "stem" and leaves,
(made with patterened scrapbook paper accenting the misty blue color)
And a little lace accents as well as french netting.
If I have any leftover material, mom and I will make shoe clips for my "something blue" - if not, I guess it'll be my garter!
Other flower plans: I have a florist to make my own bouquet as well as the mothers and grandmothers corsages. The plan is to get flowers from
Charleston Flower Market
and DIY the bridesmaids bouquets when everyone is together the day (or day before that) before the wedding. The junior bridesmaid flower will be a kissing ball:
Currently in the process of making one with crepe paper flowers...almost done!
3. Formal Invites
Design is complete!! As big as my love affair with cotton paper and letterpress invites with custom calligraphy are, I just can't justify spending over $400 on invitations. After months of designing, edits, and proofing, we've finalized the design and the paper/envelopes/pocketfolds/cardstock is all ordered and it's ready to go to the printers!
If only I could learn how to write with some sort of consistancy :-(
I've tried. I have to fold.
Calligraphy is just something I can not do.
Know anyone who doesn't write like a 10 year old? And won't mind addressing a few envelopes for me??Send them my way!
4. 1st Dress Fitting
Last but not least, I had my first dress fitting!!
I have gone through a roller coaster of emotion the past 36 hours.
Anxious, excited, nervous. Now very nervous.
So much has to be done to the dress, and the seamstress (bless her) traveled all the way from Yemassee to do a house call and come to mom's house yesterday for the 1st fitting. I'd not met her before but she was highly recommended, she is charging about half the price (hello!!) as the average seamstress for alterations, and she didn't charge for travel. Seems too good to be true, right? It broke my heart to watch her leave my house with my dress, and September 22nd CAN NOT come soon enough. I can't wait to see my dress again...and have it *hopefully* fit perfectly so it won't need to leave again before my Bridal portraits in October. Cross your fingers (and your toes, people)!!